The Australian Sporthorse Registry
General Guidelines
The Australian Sporthorse Registry commenced taking registrations on January 1st, 2010. It is not a stud book but rather a Registry for horses that are the offspring of a registered Shire parent and a light horse parent, and also for those half Shire horses, which are in the Registry and which are bred back to a light horse.
The Registry provides a colourful certificate (see below) that certifies that the horse in the registry is either a half or quarter Shire. The certificate lists the breeding of the horse.
It is not necessary to be a member of the Shire Horse Society Australia Inc (SHSA) or other Shire Horse organisation in order to register and have an entry in the Australian Shire Sporthorse Registry.
To ensure the proper operation of the Shire Sporthorse Registry and to ensure the best possible information management standards, there are a number of rules or guidelines for breeders to follow.
If you have any general questions or comments regarding the registry, please use our Shire Sporthorse Registry Enquiry Form to contact the SHSA Committee.
Please scroll down to apply for a prefix and for new registrations.
Registration Contact
Registrar: Deb Buckland
0409 537 588
deb.buckland@bigpond.com
132 Stewarts Rd
Winkleigh TAS 7275
Bank Details:
Account Name:
Shire Horse Society Australia Incor
BSB: 032691
Account No: 217247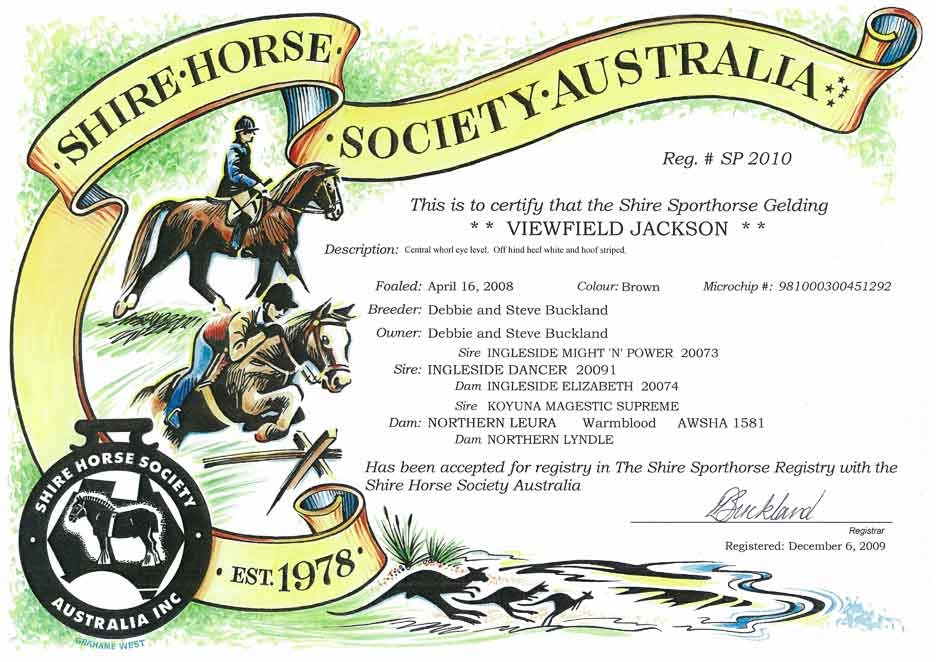 New Registrations
To register a new foal/horse, you will need to apply for a prefix and submit the following forms to the Shire Horse Society Australia Registrar:
1. New Registration of Foal/Horse
2. Stallion Service Certificate
3. Certificate of Identification
Upon successful registration, you will be sent a Certificate of Registration (as shown above, click for full size view).