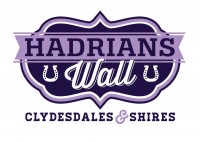 Contact
Phone: 0421 822 122
Email: click to view
Hadrians Wall
Hadrians Wall selectively breeds quality Clydesdale and Shire horses.
We strive to create the ideal riding, driving and pleasure horse with exceptional temperament and conformation.
Hadrians Wall is a small stud located in Pheasants Nest, NSW. Our modest stock started with one unregistered Clydesdale mare (Millie). In early 2011, our first registered Clydesdale stallion arrived (Sky Hi). It was from their stature, elegance and temperament that our love these heavy horses evolved, so too did the desire to create our own progeny.
In August 2011, we were blessed with the arrival of our other registered mares and a gelding (Cinderella, Leetu & Jester). In March 2012 we welcomed our first bred Hadrians Wall foal (Eminence).
In mid 2013, another registered Clydesdale mare joined the herd (Eclipse).
In October 2014 our very first appendix Shire gelding was born! This is Hadrians Wall Baroque.
Although Hadrians Wall is still in the infancy stages, we are looking forward to the road ahead, learning, growing and creating the Stud that we have envisioned.
"If you can imagine it, you can achieve it; If you can dream it, you can become it" – William Arthur Ward
---
About Hadrians Wall
For more information, please call Somone on 0421 822 12.
---